Hyundai Santa Fe Sales in Lebanon, TN
GREAT DEALS On The Hyundai Santa Fe In Lebanon, TN
You can spend a lot of time and effort searching for your ultimate compact crossover vehicle. The huge demand for these versatile, spacious, and stylish vehicles has led to a jam-packed automotive segment that can be challenging to navigate.
Or, if you want to save yourself the hassle, you can turn to a brand you know and trust, one that packs tons of fantastic features and offerings into their value-forward lineup of vehicles. We're talking about Hyundai, of course, and in particular, one of their most prominent models: the Santa Fe.
Featuring a modern and sporty exterior and a spacious, comfortable cabin, plus a capable engine, ample cargo room, and an extensive list of advanced technology equipment, the Santa Fe is the well-rounded compact SUV you've been searching for. And this exciting vehicle can be yours for an exceptional price when you shop the selection at Wilson County Hyundai!
We are proud to serve car shoppers in and around Murfreesboro with the complete lineup of all the latest and greatest Hyundai models as well as a fantastic selection of high-quality used vehicles - all of them priced to sell and ready for you to find your favorite for a stellar bargain!
Keep reading for an overview of the amazing Santa Fe and some of its highlights and history. Then turn to our dealership when you're ready to find out how much you can save when you buy or lease from us.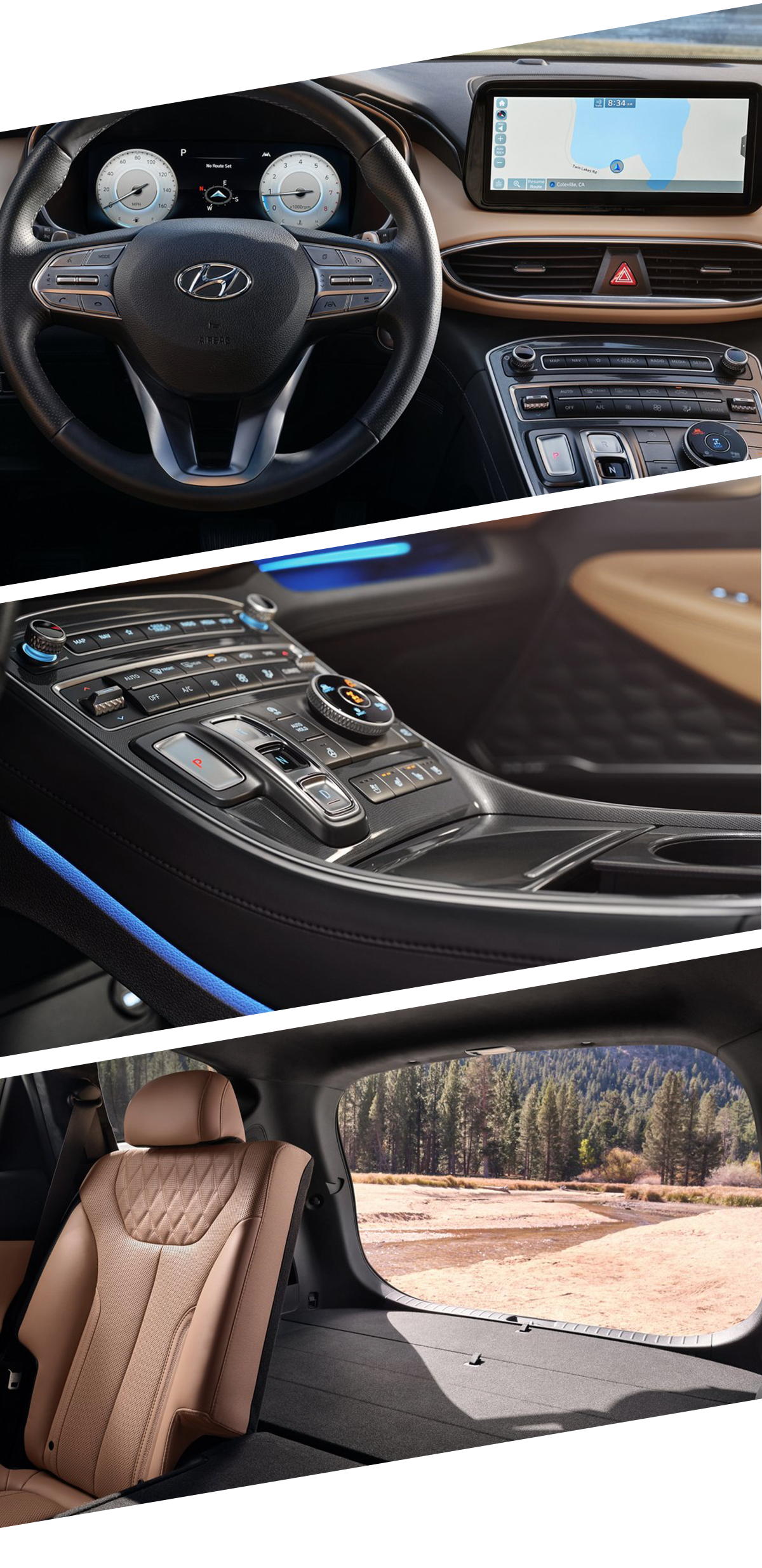 What's New in the 2021 Hyundai Santa Fe?
The latest Santa Fe has received a dynamic redesign that leaves it bolder and more refined on the outside and better equipped and freshened up on the inside. It also offers three new powertrains: a 2.5L 4-cylinder, a 2.5L turbocharged 4-cylinder, and a hybrid that combines a 1.6L turbocharged 4-cylinder with an electric motor for exceptional fuel efficiency.
This model year, you'll also find some new tech features and amenities that enhance the overall value and desirability of the Santa Fe. Among these additions are a semi-autonomous driving mode, wireless smartphone connectivity, larger display screens, and a push-button shifter. There is also a new trim in the lineup, the luxury-oriented Calligraphy, which showcases premium styling elements like quilted leather upholstery and upgraded materials and trim. It also gives you standard all-wheel drive, a head up display, and trim-exclusive exterior elements.
Safety is on point in the Santa Fe, which scores well in crash tests and also provides a substantial list of advanced safety systems and protective elements.
History Highlights of the Hyundai Santa Fe
Debuting in 2001, the Santa Fe was the Hyundai brand's first venture into the world of sport utility vehicles. The instant success of the original Santa Fe was due in large part to Hyundai's ability to pack lots of value and desirable elements into vehicles while still retaining attractive price points. The 2007 Santa Fe was redesigned with a more refined exterior and a more powerful engine.
A complete overhaul in 2019 left the Santa Fe better equipped and updated in all the right ways, with upgraded technology features and enhanced comfort and convenience amenities throughout the trim levels.
Today's Santa Fe models continue to evolve and adapt to the changing needs and expectations of modern-day drivers. With the goal of raising the bar with each passing model year, the Hyundai Santa Fe is poised to retain its prominent position in the market for many years to come.
Find Your Santa Fe at Wilson County Hyundai
Kick off your search for the outstanding Santa Fe at Wilson County Hyundai. Our whole team is here to help you sail through the car buying or leasing process - and get an incredible deal in the bargain! Browse our online inventory to see what we have in store, and then stop by and see them in person when you're ready to experience your top picks with a test drive.