Wilson County Hyundai
Providing a great experience runs in our family.

Wilson County Motors was founded in 1927 on South Maple Street, just one block from the public square. In 1964, we moved to West Main Street. Despite a fire in parts of the building in 1975, we have continued to grow and prosper. Mr. Winstead P. Bone, Jr., in partnership with Mr. A.  W. Hooker, founded Wilson County Motors and envisioned the dynamic growth and progress experienced by our community. Their ethical business practices and sense of community leadership worked hand-in-hand in building the success and progress we now enjoy. Other partners in the dealership have been Mr. Dee Manning, Mr. Sam Hopkins, Mr. Mort Harkey, and Mr. Dan Denney. They all supported the company's goals of ethical leadership. Over the years, the Wilson County Motors sold Plymouth and Oldsmobile, as well as current makes: Chevrolet, Buick, GMC, Hyundai & Genesis.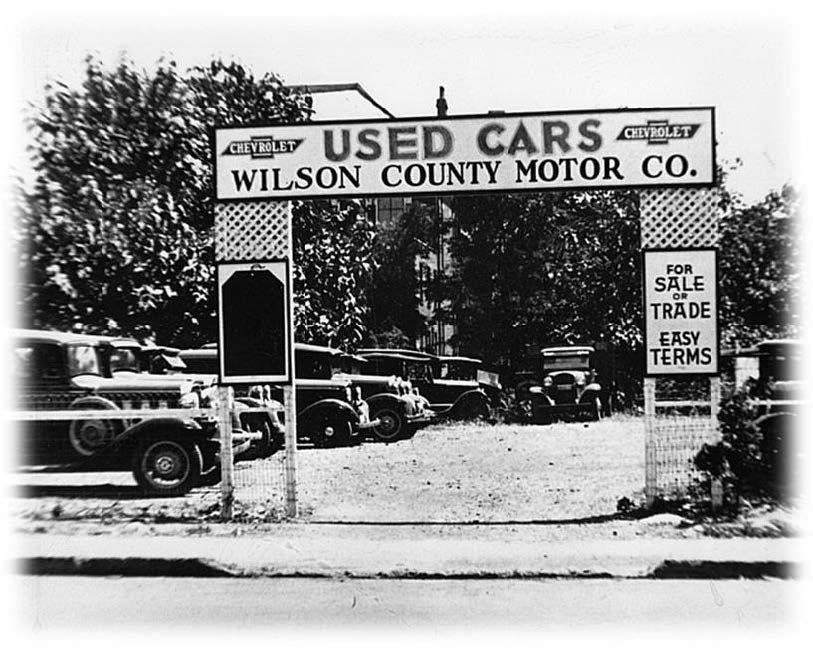 Originally, the Dealership was located on South Maple Street where it survived fire, flood, war, and depression. In 1933, in the heart of the Depression the total profit for the year was just a little over $400. While there, it survived a major fire and several floods from Town Creek. One of the pictures in the Chevy store shows Frances Anderson in a rowboat on South Maple Street in about 1950. The Dealership moved to 1310 West Main Street in 1964. Since then, we had a major fire in 1975.
In the 1940's there were few cars to sell because of the war. Wilson County Motors became one of the largest parts sellers in the nation.  This continued until the late fifties when independent parts houses began to open. By then, however, there were plenty of hot cars to sell and parts were less of a factor.
Today, we sell cars all over the nation but our home is Middle Tennessee and serving our community is an honor and a privilege we don't take lightly.  Our goal is to provide every customer who interacts with us an excellent experience.  We believe that as a family run business where you can reach the owners, we provide a level of service that has become uncommon in the car business.  This is evidenced by our winning the 2016 Torch Award from the Better Business Bureau for Ethical Business in Middle Tennessee.
Whether you are visiting from Nashville, Franklin, Hendersonville, Gallatin, Murfreesboro, Mt. Juliet, Cookeville, Cool Springs or anywhere else in our great country, we appreciate the opportunity to serve your automotive needs.