Hyundai Accent Buy Lease Offers in Murfreesboro, TN
Meet the Hyundai Accent in Murfreesboro, TN
While there is ample amount of subcompact cars on the market, sifting through each vehicle's pros and cons can be quite the task. Here at Wilson County Hyundai in Murfreesboro, Tennessee, all of the rave is about the Hyundai Accent, and it just makes sense. With spacious seating, power, fuel efficiency, and new and improved technology, the Accent is a steal for the price. Not to mention, the award-winning interior, which made its way on Car and Driver's Editor's Choice list.
Hyundai understands everyone has different needs when it comes to their ride, so that's why there are always available features and three trim options for the 2021 model: SE, SEL and Limited. Also available in new exterior colors, you are sure to show out on the road. If you are ready to see what the hype is all about, take some time to read more in detail about the Hyundai Accent, specifically where it started, where it is, and where it's headed. At Wilson County Hyundai, we pride ourselves with a team of experts, and we couldn't be more excited to assist you with the car buying process. We do the hard part for you, so sit back, relax and get ready to enjoy the Hyundai Accent!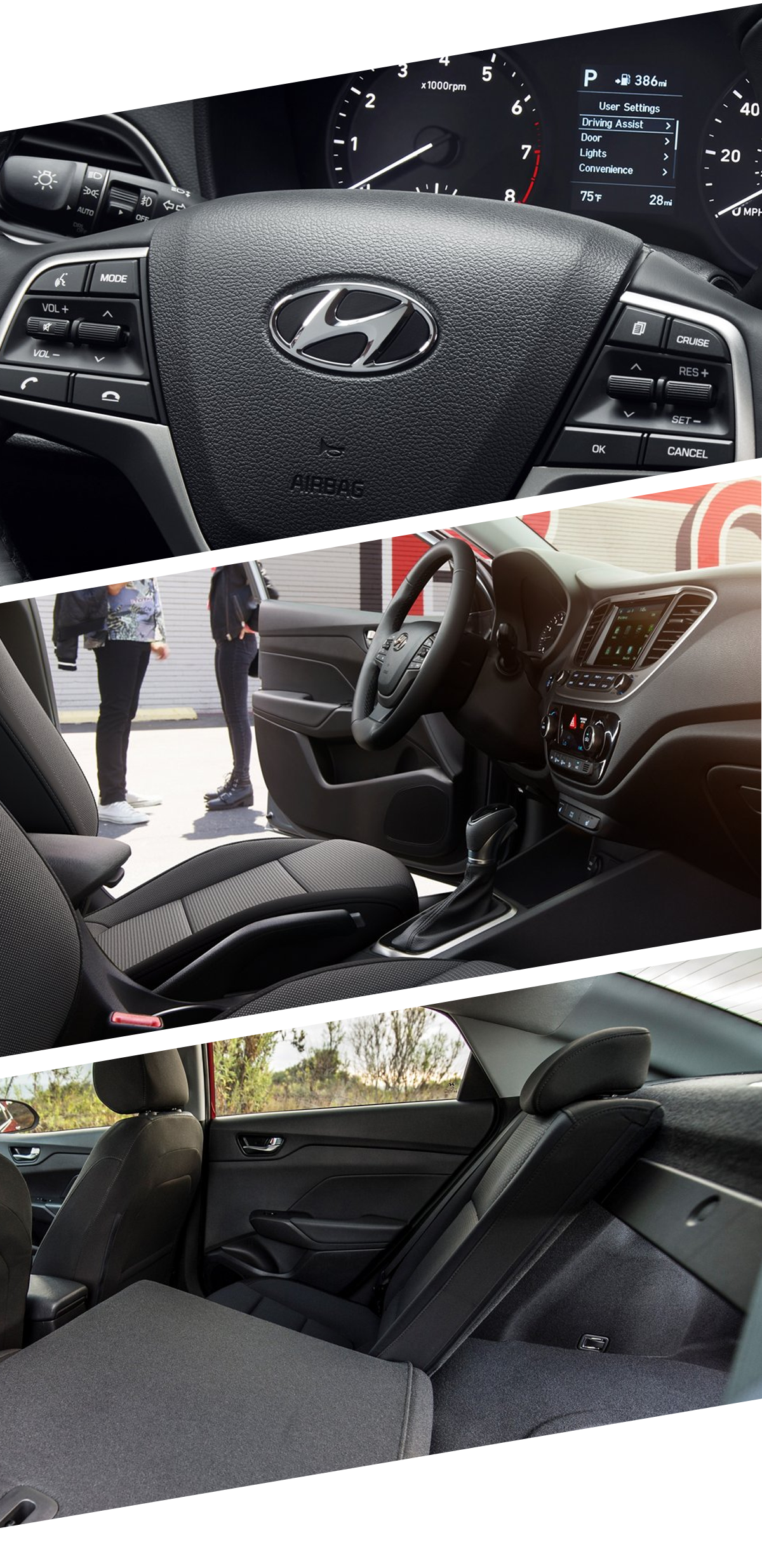 What's New in the 2021 Hyundai Accent?
Long before 2021, Hyundai began improving the Accent. While there are only few changes to the 2021 model, new exterior colors and a stick shift offered standard in the SE trim are just two of our favorites. Starting with inside, the spacious seating is sure to be a treat for you and your four passengers. The seating comes standard as black cloth upholstery, but you have options for beige or a two-toned tan and black style as well. You'll also enjoy a cabin with a six-way adjustable driver seat, a 60/40 split fold-down rear seatback, and upgradable heated front seats.
Looking under the hood, the 2021 Accent's 1.6-liter four-cylinder engine has 120 horsepower and pairs with front wheel drive, with options of a standard six-speed manual or available continuously variable automatic transmission. The vehicle's small body doesn't hold it back from moving on the road, and the fuel efficiency allows for more time for adventure and fewer stops at the gas pump. Smooth rides are ahead in your new Hyundai Accent.
Not only does the interior and power tend to please a crowd, but the technology in the Accent is the real deal. While the infotainment touchscreen comes standard at 5.0-inches, you can upgrade to a whopping 7.0-inches if you choose the SEL or Limited trim. The 7.0-inch screen also comes with Apple CarPlay®, Android Auto and SiriusXM satellite radio. Entertaining your friends and family has never been so seamless, but keeping them safe is probably your main concern.
The Hyundai Accent was rewarded a four-star rating from the National Highway Traffic Safety Administration, but the Insurance Institute for Highway Safety named the sedan a Top Safety Pick. What makes the vehicle's Safety and Driver Assistance Features stand out? The 2021 Accent is one of the few among its competitors to offer available forward collision warning and automated emergency braking. Rest assured, driving the Hyundai Accent will make you feel comfortable and safe at all times
A Brief History of the Hyundai Accent
The Hyundai Accent has been a favorite among many for a multitude of years, but its journey began in 1994, when it replaced the Hyundai Excel on the market in 1995. While we know it as the Accent, in Korea, it was referred to as the Hyundai Verna. The name Accent is a catchy abbreviation for Advanced Compact Car of Epoch-making New Technology. We bet you didn't know that! In 2011, production ventured over to Saint Petersburg by the HMMR Plant.
Ever since the year of 2002, the Hyundai Accent is proudly the longest-running family car in North America. Also, in 2008 the vehicle was named the most dependable subcompact car by J.D. Power Associates, and they weren't wrong. Over the years and throughout various countries and manufacturers, the Accent was also referred to as the Solaris, Brisa, Pony or Brio, as well as others.
The Hyundai Accent is at Wilson County Hyundai
While you can see why the Hyundai Accent is a crowd favorite, you can't truly fall in love until you come and see us at Wilson County Hyundai for a test drive. If you have any questions, don't hesitate to   contact us. When you shop with us, you are treated as our number one priority, and we form relationships that last for years to come, especially when you visit our service center. Although the Accent is what vehicle dreams are made of, we understand you may have different vehicle needs, so view our    diverse inventory online. We offer generous pricing at a great value, so you can't go wrong with anything on our lot. Come see us today so we can get you set up in your new ride!